Furniture removals in pretoria movers johannesburg cape town moving companies - Pretoria
Friday, 17 May 2013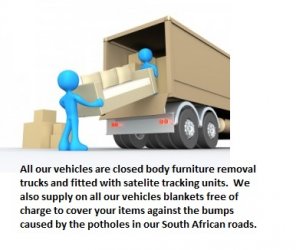 Contacts

Pierre

0827584686
Item description
Furniture Removals Johannesburg Moving Companies Cape Town Movers Durban Household Movers Pretoria

Furniture Removals in Pretoria is owned and operated by Pierre Magic Transport Furniture Removals. We specialise in long distance and short distance furniture removals and office furniture removals across South Africa. Moving houses is usually a stressful encounter, but we, at Furniture Removals in Pretoria, strive to keep our services, quick, friendly and professional, setting new standards for a stress-free household removal.

Contact us today for a free quote on your furniture removal needs.