Affordable Business Advertising Package - Pretoria
Monday, 12 February 2018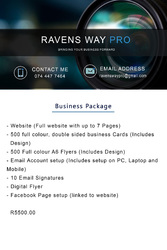 Contacts

Bianca

0744477464
Item description
Ravens Way Pro is a company that's strives to deliver its clients high quality service. We are perfectionist and love what we do. We have a passion for our work and will make sure that you will be happy.
We have a wide range of services available for you, we do video editing. This will include school and corporate videos to smaller productions which include slideshows and family videos. We have also got a marketing department which helps come up with a great marketing plan that can suit your budget. Our photographer is great and she captures your special moments so you can treasure them forever. Our photo editing department is standing by ready to give you a beautiful final product with a variety of options from black and white to sepia, we even offer photo manipulation (destructive edits) for those who want something really special or unique. Then there is our website side of the business. This part runs amazingly with the all the departments. When a client requests a website made we involve all divisions to ensure that the website will have everything to make it stand out from the crowd.
We look forward to hearing from you and would love the opportunity to show you how we can get you what you are looking for.