Tourism Business for sale in Conservative area. - Pretoria
Saturday, 15 September 2018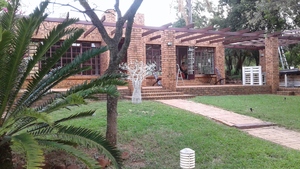 Contacts

reno

063 664 8699
Item description
Tourism Business for sale in Conservative area.
Boekenhoutskloof, Pretoria/Cullinan)
25 Hectares of Natural Bush
Established Backpackers/Hostel/ 21 Beds sleeping.
Nearby Dinokeng Game Reserve (Big Five) only half an hour away.
1 hour drive from OR Tambo Airport.
260 variety of Bird life. Ideal for Trial walking. Look out platform.
Nearby Montana Shopping Centre and 15 km from Cullinan (Mining Town).
Main house 260 sqm, Double garage, 4 bedrooms, large kitchen, lounge, 2 bathrooms and much more.
Gatehouse 150sqm, 3 bedrooms, large living room with bar and 2 bathrooms and storeroom.
Cottage 60 sqm, kitchen, bathroom and living room.
Barn 150 sqm. With 2 Rooms and open space.
Business Plan included.
Good borehole with clean water, new water pump, new pipes from dam to the houses, 30000 Liter dam and 5000 Liter tank. Electric fence. 2 Gates.
Braai, Irrigation system new, Stone garden, Wildlife, beautiful bush life. Old big tree. Duck pond, Chicken huts. Drive way through the bush. Great neighbors and Eskom power.
There are a lot of activities around this area. 15 km to Cullinan and 30 Minutes to Pretoria.
The The Dinokeng Game reserve (big 5) is only half an hour away. 1 hour drive to Johannesburg.
HIKING: (min.2 people) 1-4 hours, 2km,4 km, or 8 km trail with amazing views.
MINE TOUR: (min.6 people) Explore Cullinan mine, (above ground) in a game viewer.
BUSH MAN FIRE MAKING (min.8 people) 30 min. fire-making workshop combined with drumming. Excellent workshop/activity for team building.
DJEMBE DRUMMING: (min.8 people) 60 min. Get into the rhythms of thinks.
GAME DRIVE: (min.4 people) Experience the African bush in an open game viewer.
ARCHERY: (min.2 people) 60 min. Go back to your roots with this ancient skill.
HORSE RIDING: (min. people) 2 hours. Beginners to advance outride though scenic farm.
ABSEIL/RAB JUMP: (min. 2 people) 1-3 hours 60m high breath-taking cliff.
ZIPLINE: (0-120 kg) 2 hours. Extreme 1.5km zip-line trail. 4 slides between 265-570m.
QUAD TRAIL: (16+ years) 60 min. 8km bush trail with obstacles and breathtaking views.
QUAD SAFARI: (6+ years) 2 hours, 16 km bush trail through a game drive farm.
AMAZING RACE: (min.6 people) 3-5 hours. Navigate through Cullinan to find our clues, solve puzzles and test your skills.
Walking with Lions, just 15 Minutes away.
Lions and Cheetah Sanctuary 20 Minutes away.
Cash Buyers only and NO Agents!